BOOK PUBLICATIONS:
Waking the Bones, The Piscataqua Press, forthcoming.
Surrender to Light, Cherry Grove Collections.
My Life as a Doll, Autumn House Press.
The Red Dragon, a first prize chapbook published by Permafrost.
Slow Risen Among the Smoke Trees, Carnegie Mellon University Press.
Postal Routes, Carnegie Mellon University Press.
Twenty Colors, Carnegie Mellon University.
AWARDS:
The State of Maine's Literary Arts Fellow granted by the Maine Arts Commission.
Reader's Award for "Walking the Wife," New Letters.
Honorable mention for "The Collector's Favorite Doll."
Nominee Lenore Marshall Prize.
Nominee, Patterson Poetry Book Prize.
Finalist Award, Massachusetts Cultural Council.
Finalist Award, Grolier Poetry Prize.
Individual Artist Grant, The New Hampshire State Arts Council.
BOOK REVIEWS
Elizabeth Kirschner's "Twenty Colors" is a first book quite remarkable for its consistency and maturity of voice. The beautiful contradictions are conveyed with much poise, confidence, and courage as the poet maintains a stance that is once tough and tender, mediating between a gentle embracing of disappointment and mistrust toward any promise of paradise.
Nance Van Winckel, Shenandoah
---
"In her debut collection, "Twenty Colors," Elizabeth Kirschner offers a splendid chronicle of exiles and reprieves, a chronicle in which vision operates at the extremes of materiality, upon the flesh of everything.
Donald Revel, Denver Quarterly
---
What fascinates about "Slow Risen Among the Smoke Trees is its overt delineation, through the medium of lyric poetry, of a distinct, linear narration. What makes this book a success is how Kirschner tells Lily's story; the poems are powerful; and moving, with the plot not so much narrated as evoked. The real treasure is the wonderful last section, where Lily must come to terms with both her past and her present…all the poems work to create a Lilly who becomes real in our eyes and then transcends that reality, becoming, in the victory of her past, a moving symbol of human possibility in the face of any odds.

Bern Mulvey, The Missouri Review
---
Praise for the forthcoming book, "My Life as a Doll."
These poems are dark, iridescent beads strung along a narrative of embattled childhood that supports but never overrides the lyrical force of Kirschner's voice and vision. The narrative begins with a mother's violence and follows it effects upon the daughter's inner landscape—the visions, the bouts of madness, the circling smoke of memory—as she grows older. It's the landscape that generates the force behind these poems, rendered as is with stunning imagery at every turn and with urgent rhythms that push toward a kind of exorcism. These poems confront hard things head-on, but far from being sensationalistic or depressing, they are lush, fierce, and lovely.

Leslie Ulmann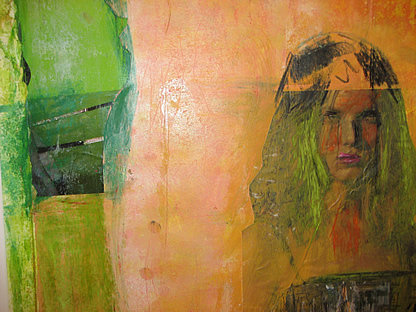 Artwork by Sirarpi Heghinian Walzer
---
The bleak ferocity of Kirschner's lines often to comes nigh to overwhelming this narrative of an abused childhood but the strength of imagery, a richness for which this poet is known, seizes the nightmares and transforms them into events that can be handled, shaped and put aside. No, not a happy ending but one that locates dignity and the forever force of life.
Hilary Masters
---
Reviews of "The Dichterliebe in Four Seasons
…Several of the poems closely follow Heine, but the emphasis of the cycle is fundamentally altered—the love affair is made to last longer, through four seasons rather than just one, and the heat is turned down to a slow burn that is perhaps more appealing for the modern listener than Heine's lyrics of infatuation. The listener is directed to Kirschner's cool but devastating final exit for the poet. It is perhaps Kirschner's blank verse that is most compelling—"In vesper shadows, I can behold your silouette in violets"—and it fits Schumann's music.
Sam Goody
---
I love the folks at little Albany Records. I love them. You never know what they'll come up with next, but you do know it will be passionate. Here is a collection of music by both Schumanns—three famous songs and a handful of piano Romanzes by both Robert and Clare. The comes the "Dictherliebe," Schumann's ethereal cycle about the course of a love affair—fitted with new poetry, not a tranlation. "In wundershoen Monat Mai," though it translates "In the beautiful month of May," begins instead "I saw the lilacs in the rain." I liked the experiment. You coud argue that the German contributes to the nature of the songs, but still, the newness of this creation puts the music in a new and interesting light.
Mary Kunz Goldman
---
Notable CDs:
The Dichterliebe in Four Seasons, Albany Records, spring 2007. This CD has my poetry set to Robert Schumann's great love song cycle. It premiered in Vienna followed by American debut here in Boston. The CD features Jean Danton, soprano and pianist Thomas Stumpf and was recorded at Jordan Hall, Boston, MA.
New Dawn, Albany Records, fall 2008. Piano music and songs cycles featuring an eight poem cycle, "Lingering, Lonely Calls," written by me and set to music by Carson Cooman.
The Revelations of Divine Love, Albany Records. Music by Carson Cooman, finale poem by Elizabeth Kirschner, nominated for the Pulitzer Prize, 2009.
For audio clips please press the button below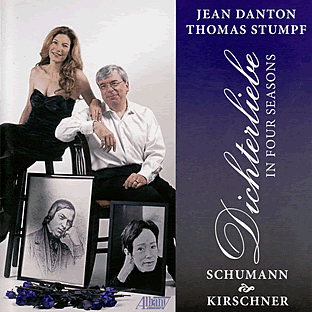 ---
Dichterliebe (In Four Seasons)
by Jean Danton; Thomas Stumpf
* Genre: Classical, Vocal
* Label: Albany Records
* Release: April 1, 2007
* Availability: Canada, United States
American poet Elizabeth Kirschner has created a new set of texts for Dichterliebe, featured in this recording. Robert Schumann was unwell in the years preceding the composition of Dichterliebe. The year 1840, however,... show full description »
American poet Elizabeth Kirschner has created a new set of texts for Dichterliebe, featured in this recording.
Robert Schumann was unwell in the years preceding the composition of Dichterliebe. The year 1840, however, proved to be one of unexpected delight. He was finally able to marry the woman he loved and coveted, Clara Wieck, the daughter of his former teacher, Friedrich Wieck, a musical icon in Leipzig. It seems odd, then, that after a five-year struggle to obtain the right to marry the woman he loved and the constant success of such works as Davidsbundertanze, Op. 6, Kinderszenen, Op. 15 and the song cycles Liederkreis, Op. 24 and Frauenliebe und Leben, Op. 42, he should turn to such a dark subject as the one presented in his sixteen-song cycle Dichterliebe, set to texts by the German poet Heinrich Heine. "A Poet's Love" is a murky tragedy with its early flourish of love, its eventual deterioration and the poet's despair of every loving again, even preferring death to a new attempt. American poet Elizabeth Kirschner, who teaches at Boston College and who has collaborated with many modern composers, has created a new set of texts for Dichterliebe, which breaks the cycle into four distinct sections of four songs each (Spring I-IV, Summer V-VIII, etc.). Kirschner has taken the "season of love" in the Heine poems and transformed them into a full year of desperation, elation, introspection and rejection. Soprano Jean Danton has performed widely on the opera, oratorio, musical theatre and concert stage, and has previously performed in the world premiere of Carson Cooman's Seducing Summer by the Sea, on a libretto by Elizabeth Kirschner.